If you're facing an unplanned pregnancy and concerned about the impacts abortion could have on your mental health, we are here for you.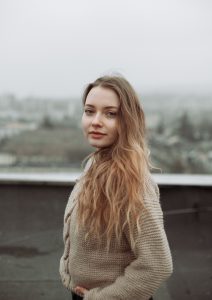 Whether you're wondering if abortion is right for you or you're trying to take the proper steps to avoid mental health complications, Pregnancy Care Center of Petoskey is here to answer your questions and guide you in this process.

Mental Health Pre-Abortion
If you've recently discovered you're experiencing an unplanned pregnancy, you may be feeling worried, fearful, and anxious. For many women, the worries that might come with facing an unexpected pregnancy can be compounded by the stress of making a decision.
Deciding between parenting, adoption, and abortion can take a huge toll on your mental health. As you wonder what's best for you and your future, it's important to give yourself the time and space to decide what you want. As you weigh your options, remember that it's better to make an informed decision than to rush into a wrong choice.
We recommend taking time to envision your future post-pregnancy. The present moment may feel overwhelming, but making a choice now out of fear and worry could cause regret for years to come. While an unplanned pregnancy can seem like something that would feel easier to put in the past, it may be one of the greatest blessings in your future.
Mental Health Post-Abortion
As you make a choice for your pregnancy and decide if abortion is right for you, it's key to consider the risks you may encounter.
In addition to physical side effects, including infection and sepsis, prolonged bleeding and hemorrhaging, an increased risk of Pelvic Inflammatory Disease, and fertility issues, some women experience mental health complications.1,2,3,4
Compared to women who carry to term, post-abortive women reported an "81% increased risk of mental health problems," including depression, anxiety, suicidal thoughts, suicide, and substance abuse.5
If you have an abortion in your past and are experiencing any of the above mental health complications, there is help available to you. PCC Petoskey provides post-abortive care and support to those who are struggling with their past abortions.
For women who are considering abortion but haven't yet decided, we recommend prioritizing your mental health as you make this challenging choice, including counseling, therapy, self-care practices, spiritual practices, and so on.
If you're not sure where to find support during this time, Pregnancy Care Center of Petoskey can help!
Here every step of the way
Deciding what to do regarding an unplanned pregnancy can be one of the most stressful and scary decisions a woman can make. Thankfully, you're not alone.
Pregnancy Care Center of Petoskey is here to help you every step of the way by providing free pregnancy health services and options counseling so that you can make the choice you're confident in! 
We provide you with valuable information about your unique pregnancy and the options available to you so that there's no question in your mind as you make the final decision for your pregnancy. 
Schedule your free appointment today!
---
Paul M, Lichtenberg ES, Borgatta L, Grimes DA, Stubblefield PG, Creinin MD. Management of Unintended and Abnormal Pregnancy: Comprehensive Abortion Care. Chichester, West Sussex, UK: John Wiley & Sons, Ltd, 2009. p. 376. [Evidence Grade: III]

Westergaard L, Phillipsen T, Scheibel J (1982). "Significance of cervical Chlamydia trachomatis infection in postabortal pelvic inflammatory disease." Obstetrics and Gynecology, 68(5): 668-90; Ovigstad E, et al. (1983). "Pelvic inflammatory disease associated with Chlamydia trachomatis infection after therapeutic abortion." Br J Vener Dis, 59: 189-92; Heisterberg L, et al. (1987). "The role of vaginal secretory immunoglobulin a, gardnerella vaginalis, anaerobes, and Chlamydia trachomatis in post abortal pelvic inflammatory disease." Acta Obstetricia et Gynecologica Scandinavica, 66(2): 99-102.

Bhattacharya, S.

et al

. Reproductive outcomes following induced abortion: a national register-based cohort study in Scotland.

BMJ Open

. 2, (2012).

Reardon DC. The abortion and mental health controversy: A comprehensive literature review of common ground agreements, disagreements, actionable recommendations, and research opportunities. SAGE open medicine. 2018;6: 1–38. 10.1177/2050312118807624 . [PMC free article] [PubMed] [CrossRef] [Google Scholar]
Coleman, PK, "Abortion and Mental Health: Quantitative Synthesis and Analysis of Research Published 1995-2009," BJP 2011; 199:180-186).