If you're facing an unplanned pregnancy and wondering how to go about telling your partner the news, you're in the right place!
Telling a few trusted people about your pregnancy is an important part of making the choice that's right for you. Whether it's your parents, your partner, or your close friend, knowing you have support from someone in your life will help bring clarity to your situation and give you realistic expectations moving forward.

For some women, the thought of telling their partner is the most daunting conversation ahead of them. It's normal for your thoughts to be flooded by worst-case scenarios. However, it's important to remember regardless of your partner's feelings you're capable of so much more than you could ever imagine. 
Here are our tips as you prepare to tell your partner the news: 

1. Take some time to dive deep and determine how you're feeling about the pregnancy
Okay, you've taken a pregnancy test and it came back positive — now what?
First, take a deep breath. If this is an unexpected pregnancy, your thoughts are likely racing in a million different directions, and feelings of fear and worry are totally normal.
Before you tell your partner, take a moment to decide how you feel about finding out you're pregnant. Grab your journal and write down your feelings — What part of this scares you? Is any part of it exciting?
It's important to ask yourself these questions before you add in the feelings and reactions of others. 

2. Confirm your pregnancy is viable
Pregnancy tests determine if you're pregnant through detecting the pregnancy hormone HCG (Human Chorionic Gonadotropin); however, they cannot tell you if you're pregnant with a viable pregnancy. In other words, there's a chance your pregnancy might not be able to make it to birth or live outside of the womb.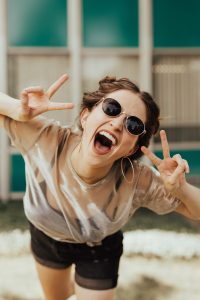 To find out if your pregnancy is viable, we recommend scheduling a no-cost ultrasound at your local pregnancy clinic. An ultrasound will determine how far along you are, where your pregnancy is located, and whether or not it's viable. 
It's up to you whether you want to confirm your pregnancy before you tell your partner or invite them to join you in this step.
Regardless, this is a key part of making an informed choice for your pregnancy.
3. Choose a Time and Place Strategically 
It might feel like there's no good time to have this conversation, but some times are better than others. This news will likely come as a surprise to your partner and may take some time for them to truly digest what you're saying.
With that said, pick a place and time that allows them to process what you're saying, ask questions, and express their feelings.

4. Express your feelings
Many women immediately jump to taking on the feelings of those around them. This can mean they make a decision for their pregnancy they didn't want to make.
Regardless of how your partner responds, it's important you take some time to express how you're feeling. Invite them into your process — whether you're feeling fearful and worried or excited and confident. Giving them insight into how you're doing might help them move past their own gut reaction and into a supportive role.
5. If you're nervous, get advice from a client care advocate
It can be a challenge to know how to tell your partner you're pregnant, especially if you're unsure as to how they're going to respond. One of our professionally trained staff members can talk you through the process and help you navigate his response.

Walking through an unexpected pregnancy isn't simple, but it's important to remember you're not alone! Millions of strong, amazing women have walked in your shoes before. Our hope here at PCC Petoskey is that women who walk through our doors would feel empowered and confident as they decide what's best for them and their futures!
We provide free pregnancy testing, ultrasound scans, and more to help you make an informed choice! Looking for help? Call us today to schedule a free and confidential appointment.