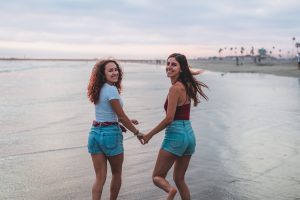 Could you be pregnant? Only a positive pregnancy test can confirm, but there are several signs and symptoms to pay attention to. If you're experiencing any of the following, you should probably take a pregnancy test! 
We offer free pregnancy testing and follow up care and information, so schedule your appointment today.
Missed Period
The first and most commonly talked about symptom is a missed period. 
But while it is often an indicator of pregnancy, there are several other reasons for a missed period. A missed period can sometimes be the result of non-pregnancy factors like: a change in body weight, increased stress, fatigue, or a hormonal imbalance. 
A pregnancy test is an important part of identifying if you are pregnant or there are other health issues that need your attention.
Spotting or Cramping
When a fertilized egg attaches to the wall of your uterus there can oftentimes be bleeding that will appear as spotting. You may also feel cramping similar to what you feel during your menstrual cycle. 
If you are experiencing spotting or cramping outside of your typical menstrual cycle then it could be an indicator of pregnancy.
Breast Tenderness
As your body changes and prepares for pregnancy, your hormone levels change. This sometimes leads to soreness or tenderness in your breasts or your breasts may also feel swollen or heavy. While these symptoms are temporary they can be an early sign of pregnancy.
Fatigue, Dizziness, or Headaches
Fatigue, dizziness, and headaches can sometimes just be the result of severe stress. But they can also be indicators of a change in your health, including a pregnancy. 
Nausea (Morning Sickness)
Another common sign of pregnancy is nausea, oftentimes referred to as morning sickness. But while some women do experience nausea in the first part of the day, it's actually quite common for pregnant women to feel nauseous at any time of the day or night.
If you are experiencing consistent nausea over several days it could be your body adjusting to the increased hormone levels from a pregnancy.  
Frequent Urination
Another symptom of pregnancy is an increase in the number of times you urinate in a day. However, this could also be the sign of another urinary issue, like an infection, so it's important to seek medical attention if you notice an increase in urination over several days.
Mood Swings
When your body is preparing for pregnancy, the rapid changes in hormones can lead to mood swings. While it can feel confusing, especially if you don't typically experience mood swings, it is a normal part of early pregnancy. 
Get The Answers You Need
If you are experiencing one or more of these symptoms and are concerned you might be pregnant, the best thing you can do is schedule an appointment with a medical clinic to receive a pregnancy test.
Pregnancy Care Center of Petoskey offers free and confidential tests, can answer any questions you have, and provide you the information you need to have peace of mind. Contact us today to schedule an appointment.