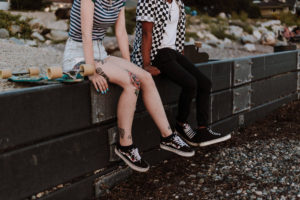 Now that you've realized you're pregnant, no matter how unbelievable it seems, it's time to look at your options. You have choices, but none of them are easy. We completely understand and want to help you if we can.
Your choices are abortion, adoption, and parenting. Adoption might be the right choice if you're thinking the following:
Abortion is not an option, but you're not ready to be a parent 

Your current relationship and living situation isn't healthy for raising a child

You want to provide a financially and emotionally stable environment

You see the importance of a two-parent family who can devote themselves to your child
Isn't Adoption the Hardest Decision?
This isn't an easy choice, but it's a selfless and loving decision. You're looking at your current circumstances and thinking about your child first. 
Choosing a future for your child is a big responsibility. Whenever something is as important as this, you want to plan it out. That's why, as the birth or expectant mother, you choose a plan that's right for you and your child. We promise to be with you along the way.
The Different Adoption Plans
What do you want your future to look like? Are you hoping to get to know your child and their adoptive family, or would you prefer to move on and not be involved? Both of these are legitimate questions and your answer will determine the type of plan you choose.
Open Adoption
If you want to know and be known by your child, open adoption is the plan for you. With open adoption, you and the adoptive family exchange identifying information such as full names, addresses, and phone numbers. Together, you agree on the amount of communication and physical contact everyone is comfortable with.
Closed Adoption
Sometimes less information is easier. If you prefer to remain anonymous, you can choose a closed adoption. With this plan, you won't have any contact with the adoptive family or your child. There's no need to build relationships. The original birth certificate is sealed and no identifying information is shared. 
Semi-Open Adoption
If knowing your child and their adoptive family while remaining anonymous sounds appealing, choose a semi-open adoption plan. You'll still have contact with the family, but all contact is handled through a third party such as the agency or specialist you choose. Most likely, the only identifying information that's shared is your first names.
How Will I Know If Adoption Is Right For Me?
Only you can decide if adoption is the right option. Our team is here to support you whatever you decide. We want you to make a confident decision so we'll connect you with valuable resources, including consultations before, during, and after it.
Schedule a no-cost and confidential appointment with us today. We know you'll choose what's best for you and your child. How can we help you?