Picking a pregnancy test can be overwhelming. From seemingly endless drugstore aisles to tests claiming "the most accurate results," it can be hard to know which is a trustworthy option.
We're here to help you know what to look for, how to get the most accurate results, and where to find free pregnancy testing near you!
First, how do pregnancy tests work?
You've likely seen someone take a pregnancy test in a movie or on TV, but how do they actually work and identify whether or not you're pregnant?
Pregnancy tests will use a sample of your urine to check for the pregnancy hormone called HCG, or human chorionic gonadotropin. The presence of HCG will cause the pregnancy test to indicate pregnancy, usually in the form of two lines, a plus sign, or words. Be sure to read the instructions on your at-home pregnancy test carefully to determine how your test will show the results.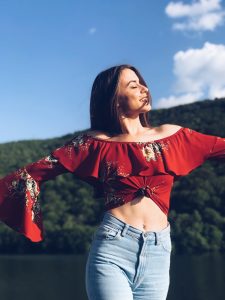 When should I take a pregnancy test?
If you've recently had unprotected sex, there's a chance you could be pregnant. If you think you may be pregnant, there are a few common pregnancy symptoms you can be on the lookout for.
These symptoms include:

Nausea

Vomiting

Tenderness of the breasts 

Fatigue

Headaches 

New cravings

Sensitivity to smells or foods

Mood swings
You could have any of these symptoms for a variety of reasons, including pregnancy, so it's recommended you wait until you're at least one week past your missed period before taking a pregnancy test. This will allow enough time for your body to produce a detectable amount of HCG.
What are the most accurate pregnancy tests?
While many brands claim their tests are the most accurate, the best way to ensure accuracy is to wait for the right moment to take your pregnancy test. You should also make sure you follow all the instructions carefully. 
In addition to waiting at least a week after your missed period, we recommend taking your pregnancy test first thing in the morning before you've had anything to drink. Also, check that your pregnancy test has not expired. 
At-home pregnancy tests rely on the user to follow all of the instructions carefully. For the most accurate testing, head to your local pregnancy clinic for no-cost pregnancy testing!
I'm pregnant! What do I do now?
Okay, so you've taken a positive pregnancy test! Remember you're not alone and there is help available to you!
If you're experiencing an unplanned pregnancy, schedule an appointment at your local pregnancy clinic where you'll receive a no-cost ultrasound, guidance on what to do next, and a safe place to explore your options!